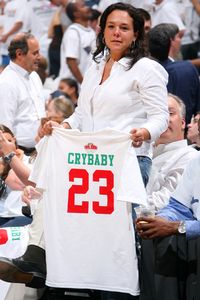 We officially live in a "no fun" world — where every kid in the league gets a trophy regardless of whether their team wins a game or not and character-building games like dodgeball are almost universally banned. So it should come as no surprise that moments after Papa John's put together some timely t-shirts with LeBron James' number and the name "crybaby," they issued an apology for offending people.
Papa John's will sell Cleveland residents a large, one-topping pizza for 23 cents this week, and will also donate $10,000 to the Cavaliers Youth Fund. I realize this is a no-brainer for them because they get a ton of free publicity, but this is not cool. Either have the stones to call someone out or don't. This is no better than playing both sides of the feud — sticking whichever side is winning.
Sports are all about trash talking, and it should be a good thing if D.C. establishments want to get in the game and support the local franchises. But don't wuss out and bail the second you get a phonecall complaining (even if it's from the commissioner David Stern). You had the grapefruits to think up the t-shirts and to have them made. Stand by your decision and tell Cleveland to, once again, quit crying.